Spring & Summer Plus Size Trends We're Loving
As the sun gets warmer, the days get longer, and the first signs of new collections being released online and in stores, it's time to shuck off our winter coats and revel in our lighter spring and summer wardrobes. For plus-size babes, it's a good year for us – here are some of this season's top trends for curvy bodies.
Bold Brights
Nothing says "body confidence" like all-over neon. Flaunt your fabulousness in head-to-toe tropical pink as seen in Annakiki's spring/summer 2019 collection, floaty, deep sunshine yellow dresses as seen at Oscar de la Renta, or punchy trouser suits cut from juicy lime cloth at Emporio Armani. Bright colours are in, and ready to brighten up your day. If you're on the lookout for neon bright looks, Pretty Little Thing are stocked up on all things plus size and bright. Including this neon outfit!
Oversized blazers
Although oversized blazers are mostly seen on the catwalk being worn by super slim models, they're actually super fabulous on all sizes. Their tailored shape gives definition to shoulders and a hint of structure to the body, whilst they hang loose enough for anyone to feel comfortable in. Designers this season played around with traditional blazer shapes, and there's a wide variety – from the oversized, waist-cinched affairs at Matthew Adams, to swooshy, boho-elegant coats at Beatrice B. For bonus fashion points, go for blazers in cinnamon (the season's stand-out neutral), vivid colours or classic grey for a sharp look. This one from ASOS Curve is right up our street.
Boho
Yes, we know – floaty boho dresses and tops being a trend for summer isn't exactly news. But boho style this season is worth noting, as there are some excellent ones out there. In the spirit of retro we've seen recently, tie-dye is set to be a big trend for spring, and there are some lovely, relaxed dresses out there that you'll want to snap up and keep forever. This season also has a glut of floaty dresses, buoyed up by celebrities who've opted for fairytale confections at recent events (see Kiki Layne, Lady Gaga and Constance Wu at 2019's Golden Globes). Now is the time to live out all your princess dreams in puffy tulle and chiffon.
This Yours clothing number fits right on trend, and the Lindex top is perfect for a subtle Boho nod. 
Giant hats
Two styles of hat are in this season, according to designers. Skip the bucket hat  – and go straight for a giant hat. Saint Laurent's models strutted their stuff in retro-inspired, colourful boaters, Redemption and Gucci had cowboy-esque wide brims in a deep, velvety green and red felt and Vivenne Westwood went for height with a bright red straw hat. To ramp up the drama, go for a wide-brimmed beekeeper style à la Simone Rocha and Erdem.
Curvissa have already got this trend going with a selection of wide brim hats already available on their website. Animal print
We know, animal print has been around for what seems like forever! But it's not going anywhere anytime soon. Expect prints to extend beyond leopard and snake. Start thinking Tiger or Giraffe prints and you're halfway there. This Very top is the perfect example. A classic cut but in a Tiger print. We'll take it!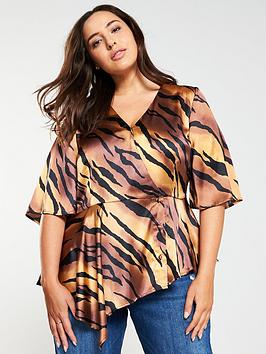 If you want to see what the best brands have in store for you over Autumn winter and beyond then grab your tickets to The Curve Fashion Festival here!
Continue reading
Comments